Upcoming Events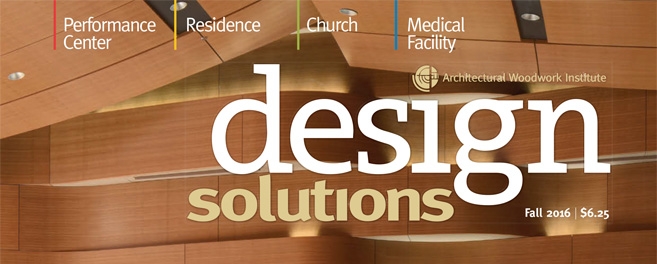 Design Solutions Magazine
Design Solutions Magazine is the official journal of the Architectural Woodwork Institute. Each quarterly issue showcases beautiful examples of fine architectural woodwork manufactured by AWI Manufacturing Member companies. With stunning four-color images, crisp detailed drawings and thought provoking articles, Design Solutions offers readers a bountiful resource that's sure to inspire and delight.
CCI Group was featured in the Fall 2016 issues for our work on the Kingwood Medical Center Tower in Kingwood, TX. The $23 million, 200,000 sq/ft tower was planned as an expansion of the hospital's services for women, infants, and children in a new modern environment.
Woodwork elements included casework, nurses' stations, reception counters, wall panels, column wraps, crown molding, chair rail and base trim. All cabinets, wall systems, wall panels, and column wraps were made of wood grain, high pressure decorative laminate. Crown moldings, chair rails and base trim were fabricated of Cherry.
Click the link below to view the full Design Solutions article, drawings, and photos of the casework solutions provided by CCI Group.
http://www.nxtbook.com/nxtbooks/awi/designsolutions_2016fall/index.php#/38