Upcoming Events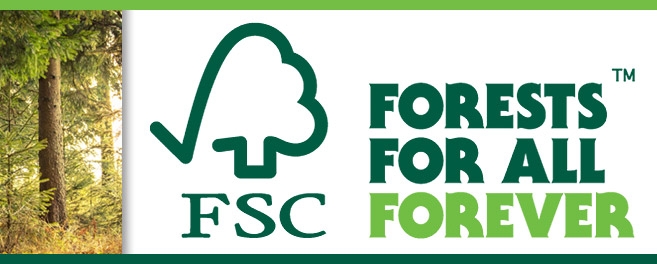 Advantages of FSC™ Products
For the past 3 years, CCI Group has proudly progressed as an FSC - Chain of Custody certified manufacturing facility. The Forest Stewardship Council (FSC) promotes environmentally appropriate, socially beneficial, and economically viable management of the world's forests. The FSC vision is that we can meet our current needs for forest products without compromising the health of the world's forests for future generations.
CCI Group strives to help achieve this goal, and participates in the mission to provide a foundation for all forest management standards. FSC certification ensures that products, when requested, come from responsibly managed forests that provide environmental, social and economic benefits.
Over the past 20 years, FSC has earned a reputation as the most rigorous, credible forest certification system. As a result, there are significant advantages to choosing FSC-certified products:
Access to Markets - Many major companies have policies that state a preference for FSC-certified products. Green building standards, including the US Green Building Council's LEED program, provide incentives for using FSC-certified materials. Consumers are requesting FSC-certified products in retail stores across the country. Many governments require the use of FSC-certified products. Companies that produce FSC-certified products gain access to these markets, and many others.
Credibility - FSC is an independent, member-led group organized into social, environmental, and economic chambers that have equal authority.
Environmental Protection - FSC's forest management standards expand protection of water quality, prohibit harvest of rare old-growth forest, prevent loss of natural forest cover and prohibit highly hazardous chemicals, which are all unique aspects of the system.
Community Engagement - FSC requires forest managers - on both public and private lands - to engage local community members and to protect customary rights of indigenous people, ensuring their voices are part of the certification process and impacts of forest operations are addressed.
For more about FSC's principles and criteria, please go to their website: