Upcoming Events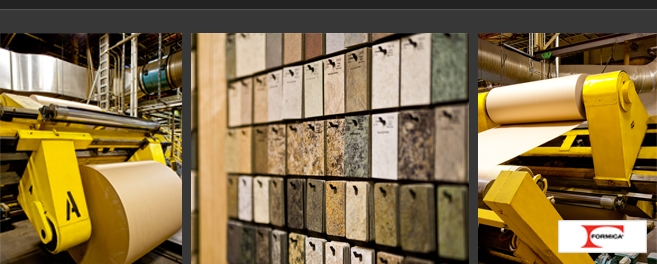 Formica Plastic Laminate
Photos: © The Formica Group
Plastic laminate got its start in a Westinghouse research facility and a patent was issued in 1918 (5 years after application). Its invention is credited to two engineers, Herbert A. Faber and Daniel J. O'Conor. Since that time plastic laminate evolved from electrical insulation to what most consumers associate it with now; HPDL (high pressure decorative laminate).
The Formica Company was the brainchild of Herbert A. Faber and Daniel J. O'Conor. In 1927, Faber and O'Conor discovered that by adding decorative paper through a lithographic printing process, their laminates could be made with patterns that simulated wood grains and marble. As the laminate became more colorful and decorative, its market expanded. Formica became a household name that many people used when referring to any brand of HDLP. HPDL has become an integral part of the construction industry by being used for counter tops, laminate clad cabinets, and even decorative wall panels. Many other manufacturers make up the market now giving consumers and design professionals a variety of choices.
HPDL is made by stacking layers of papers coated with phenolic resins then pressing them with over 1000 psi while adding heat. The bottom layers are Kraft paper (amounts of layers determined by the grade of laminate desired) followed by a layer of decorative paper then overlaid with a translucent sheet on top. This process causes the resins to flow together to be thermoset into one laminated sheet. The dry sheet is cut into the desired size and shape. For counter tops, cabinets, and wall panels it is then bonded to a suitable substrate per industry standards.
Counter tops, cabinets, and wall panels that are clad with HDLP must be treated like wood finishes for the same items. Laminate, like all wood products, will expand and contract with changes in relative humidity. Laminate will expand and contract more in width than in length with changes in relative humidity. If the materials are in an unstable environment, there will be problems. Large swings in humidity and temperature is a recipe for product failure. This is why it is very important to install cabinets, counter tops, wall panels, and other wood based finishes in an environment that has been conditioned to proper temperature and humidity levels. A major cause for failure in architectural woodwork is the lack of controls for maintaining a consistent, year round, appropriate relative humidity in a building. Consult a cabinet and millwork professional like CCI Group for advice on this subject as well as all your cabinet and millwork questions.
For more details on the Formica Group, please visit:

James Hodges
CCI Group
Director of Customer Relations and Education
TAWI 2015 President